Post Classifieds
Casey Affleck: Why the Controversy?
Sunday night was a night to remember for many, although for some, it's for the wrong reasons.
Aside from the obvious issue regarding the incorrect Best Picture reveal, there was also the very controversial win by Casey Affleck amidst sexual assault allegations that continually threaten his career, despite their being settled outside of court.
So what exactly are the allegations, are they true, and why is this still an issue?
Here's your inside scoop on the issue in summary.
The allegations began back in 2010 following Affleck's work on "I'm Still Here," the Joaquin Phoenix mockumentary that Affleck directed.
The claims came from Amanda White, producer and colleague of Affleck's for over 10 years, and Magdalena Gorka, the director of photography on the film.
Both women accused Affleck of inappropriate sexual comments as well as unwelcome advances.
According to White, Affleck recounted sexual exploits as well as psychologically and physically attempted to get her to stay in his hotel room.
According to Gorka, Affleck made sexual comments to her daily, including innuendo and unwelcome advances. At one point, Gorka claims to have woken up to Affleck in her bed, wearing only underwear and a shirt and caressing her back.
Of course, in light of these accusations, Affleck denied them and countersued to protect his reputation.
The case was later settled outside of the courts, to the satisfaction of all parties involved.
So the allegations have been laid to rest, but are still impacting Affleck's career. And the issue is, it's one person's word against the other — there's no proof, there's no case, and it's very easy to make assumptions, one way or the other.
So when Affleck's nominations started piling up, the issue was raised once again, despite its being settled in a legal sense.
And Affleck at this point, due to the terms in his settlement, cannot legally comment on the incidents. He has spoken of them often, but following the settlement, stated, "It was settled to the satisfaction of all. I was hurt and upset — I am sure all were — but I am over it. It was an unfortunate situation — mostly for the innocent bystanders of the families of those involved."
Conversations surrounding the allegations have recently been brought to light, due in large part to awards season, and many take issue with the fact that Affleck is being rewarded for his role despite these allegations.
In total, Affleck has taken home the Oscar, BAFTA, Golden Globe, Critic's Choice, Gotham, and National Board of Review awards — all for his performance in "Manchester by the Sea," an undeniably moving and overall depressing film.
He has only lost one award this past season, and that's the SAG award for Best Actor which went to Denzel Washington for his role in "Fences."
In his acceptance speech, Affleck claimed, "Man, I wish I had something bigger and more meaningful to say."
And I think that we as a whole feel the same.
Essentially, it comes down to two arguments.
On the one hand, you have Affleck's performance. When rewarding an artist, you're rewarding their performance, not their character. This is, of course, a big gray area, and many will disagree with that statement. However, there isn't a doubt that Affleck gave his best performance in "Manchester by the Sea," and had these allegations never been made, we wouldn't question his win for a second. His performance without a doubt deserved the Oscar.
On the other hand, sexual harassment is sexual harassment and it should not ever be rewarded.
Again, there's a lot of gray area here. For one thing, we don't know for sure that the allegations are true. Affleck did countersue, and all parties were allegedly pleased with the outcome. This is the most information we are ever going to get on the issue.
So is it really fair to hold an allegation that may or may not be true over someone's head forever?
This is where the difficulty comes into play, and I can see both sides of the issue very clearly.
On the one hand, you have an actor with a performance deserving of the Oscar; on the other hand, you have an actor with questionable character.
At the end of the day, we aren't going to be privy to the truth. We just won't have all the information at any point, so we're all going to have to draw our own conclusions.
One thing is for certain: sexual harassment is never okay. And I think we can all learn from Brie Larson, the young actress and advocate for the rights of sexual assault victims, who presented Affleck with two of his major awards this season.
She didn't make an outward statement against him, and she even gracefully handed him his awards, but she didn't clap and celebrate his work along with everyone else.
She made a statement without defaming the actor and really, without words. That's something we can all respect.
The moral of the story: stand up for what you believe in.
If you're true to yourself, it doesn't matter how someone else is rewarded for being wrong. Your values will drive the fight for change.
And it may be a long process, but change is coming.
Brace yourself.
Discuss This Article
More Uloop Entertainment Articles
CLEMSON HOUSING LISTINGS
See all CLEMSON Housing Listings
GET TOP STORIES DELIVERED WEEKLY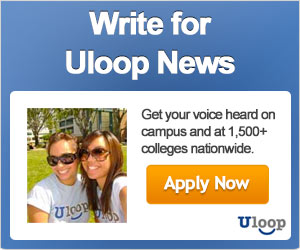 TOP COLLEGE NEWS